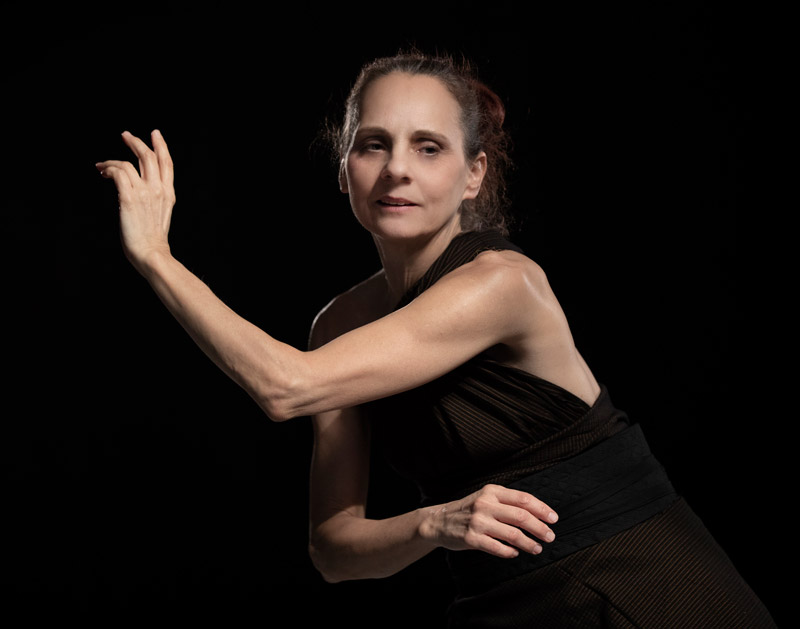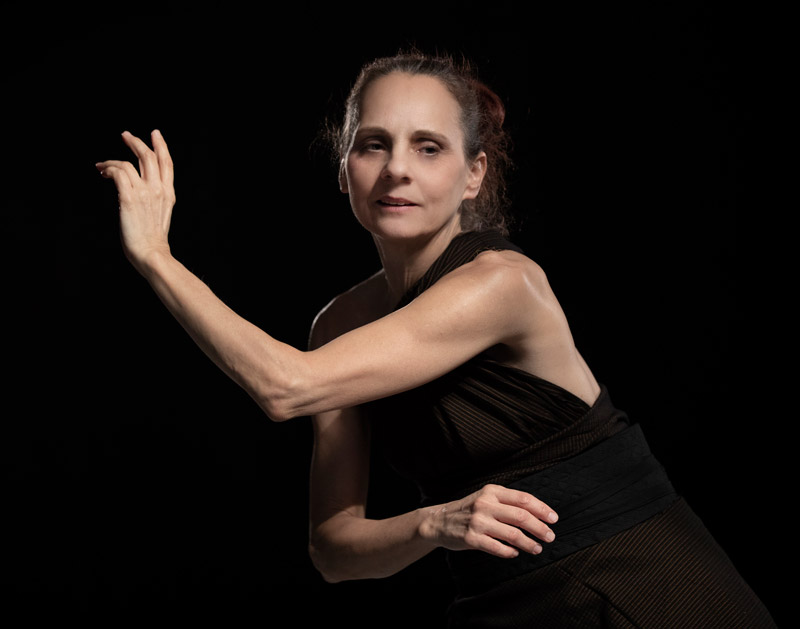 Sylvie Bouchard in Sashar Zarif's …but water is like a mirror
Sylvie Bouchard's show Encounters at the Citadel until May 13 is a choreographic delight of world premieres that delivers the rich evening you'd expect from this much-admired senior dance artist. Bouchard began her commissioning project in 2018 to produce solos and duets from choreographers with whom she wished, in her words, to journey creatively, and these two pieces couldn't be more different. Clearly, Bouchard has a wide range of choreographic interests.
Sashar Zarif's mesmerizing raw, primal and fierce solo for Bouchard, (…but water is like a mirror), includes himself as musician, but both dancer and musician sing, croon, and emote words and guttural sounds in a performance that is rich in emotion. The movement itself contains elements of folk dance, but the major thrust of the choreography is the body expression of many moods. It is an intense interior monologue brought to the open.
The piece anchors you in the earth in a tribute to generations of women who have kept their families alive through good times and bad. The song, Gunduz Gece, is, apparently a Turkish masterpiece written by legendary Ashiq Veysel, and what a heart-felt, heart-rendering piece of music it is. The two performers encase themselves, and us, in the power of the song.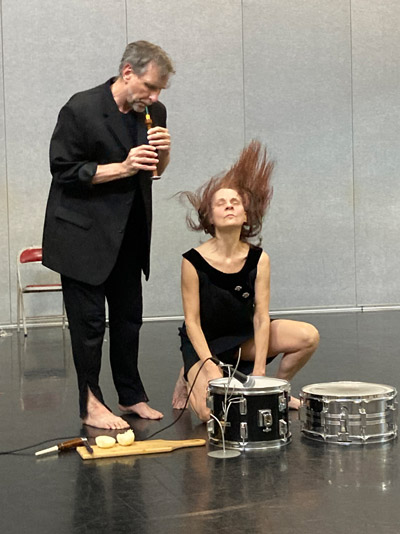 The late Tedd Robinson's duet for Bouchard and Gerry Trentham (Bob's Last Request!) is eccentric and wild and bewildering vintage Robinson. The subtext is an ironic view of old age and relationships because Robinson's work always means something, despite the bizarre images he produces.
As always, there are a lot of props that the two play with like hats, sunglasses, microphones, drums, and most importantly, an onion, the latter being the main symbol of the piece. As humorous and startling as some of the images are, there is no getting around Trentham's repetitive spoken third-person description of what the couple have just performed, with the additional explanation of "They need help!"
As a side note, the sudden death of Robinson, left the almost completed work needing the help of long time Robinson adherent, Angie Cheng, to bring it to fruition. If this is the last work of the great Robinson, an iconoclast if there ever was one, it is as provocative and subversive as his canon demands.
BoucharDanse has produced an evening of dance that is smart, intelligent, emotional, and eminently watchable.