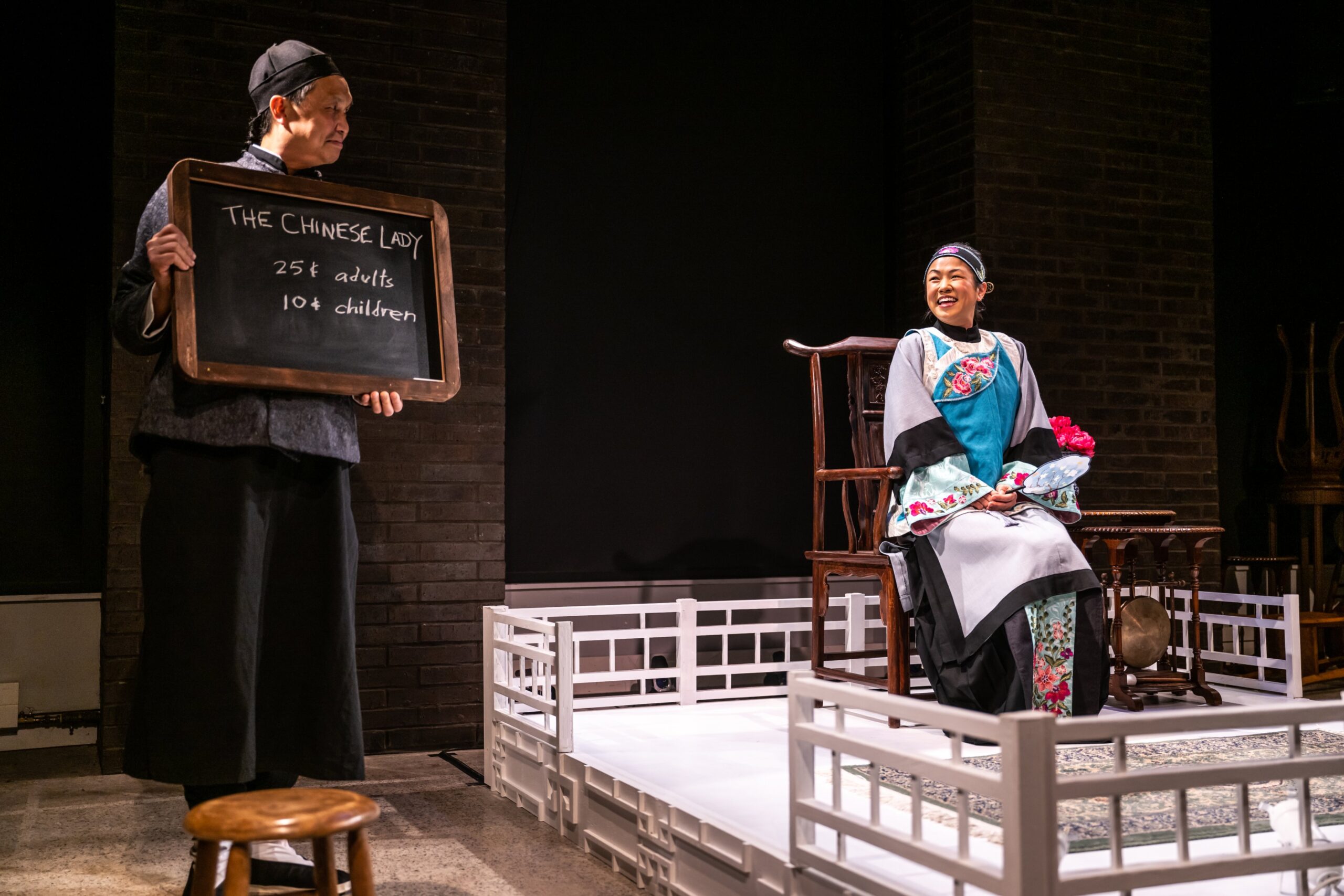 The Chinese Lady (Studio 180) and Bone Cage (One Four One Collective)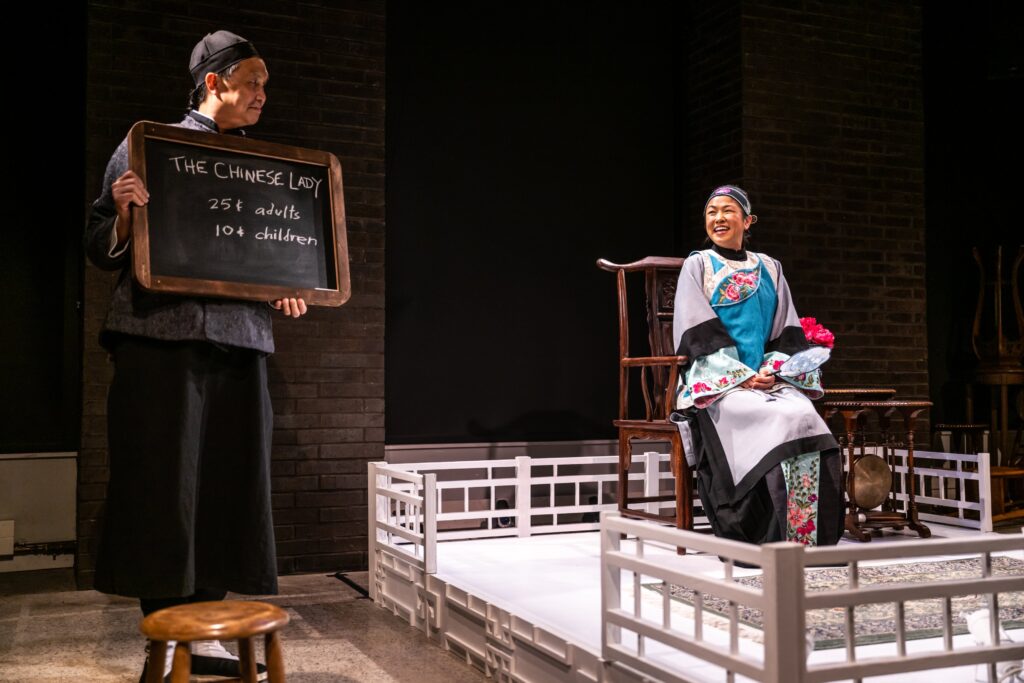 Studio 180 Theatre, fu-Gen Asian Canadian Theatre Company, in association with Crow's Theatre/The Chinese Lady, written by Lloyd Suh, directed by Marjorie Chan, Scotiabank Community Theatre, Streetcar Crowsnest, May 2 to 21. Tickets at crowstheatre.com.
It always amazes me how writers take a footnote in history and turn it into something of meaning. Take for example, The Chinese Lady (2018) by American playwright Lloyd Suh.
The subject of Suh's play is Afong Moy, supposedly the first Chinese woman to step foot in the United States. (She's in Wikipedia!) The Carne brothers were New York importers of Chinese goods, and bought Afong from her father in 1834, when she was just 14, with the intent to show her off with their wares. They created a Chinese room, and people paid money to see The Chinese Lady, including her bound feet. She also had a translator and props wrangler who came with her named Atung who was part of the show. (He's in Wikipedia too.)
Afong's stay in America was only to be for two years, but of course, it was for life. She ended up touring the United States and actually had an audience with President Andrew Jackson, which is a scene in the play. Suh has her ultimately being sold to uber-showman P.T. Barnum, until he replaced her in his museum with a younger version who was more interesting than Afong because she was a contortionist who performed tricks.
The question then becomes, how does playwright Suh use this material?
The Chinese Lady is basically a long monologue for Afong (Rosie Simon) with occasional interjections from Atung (John Ng) whom they both say is "irrelevant". Suh keeps repeating Afong's exhibition scene, in which we see her show the tea ritual, demonstrate the use of chopsticks (with shrimp and Chinese vegetables), and walk around on her little bound feet. With each repetition, however, the years pass and Afong's observations on America become more pointed.
When the play begins, Afong is very curious and very optimistic. She sees herself as a cultural ambassador, and wants to deepen relationships between the U.S. and China. Her early observations include wry comments on corsets, and the possible reason that the Liberty Bell is cracked. But later observations include darker themes like the transAtlantic slave trade, American expansion into the west, the California gold rush, and the Civil War.
And then we come to the heart of the matter – the treatment of Chinese immigrants and the Chinese Exclusion Act. Slowly but surely, Suh has put words into Afong's mouth that track through the bad and the ugly of American history, particularly in terms of racism and mob violence against the Chinese. (Afong graphically describes three different massacres.) From initially being naïve and enthusiastic, Afong becomes disillusioned and bitter. The scene with Andrew Jackson (played by Ng), whom Afong calls Emperor, is particularly brutal as he sexualizes her as an object, demanding to touch her bound feet.
The performances are wonderful and director Marjorie Chan has made the decision that over-acting works in this case. Simon is bright and cheerful, and the smile stays pasted on her lips throughout as she thanks people for coming to see her, even as her commentary becomes darker. In fact, Simon's portrayal of Afong is quite astonishing as we see her physically age, from 14 to adulthood. The smile remains, but it is the tone of her voice that changes. It's a terrific job of acting.
Ng, on the other hand, has just the right amount of irony and resentment beneath his few lines. In his case, it is an actor projecting what lies beneath, which he does very well, like an eminence grise – the sullen servant, as it were.
Echo Zhou has designed a pretty little set, replete with Chinese rug and furniture for Afong's exhibition, although it is denuded by the end. The use of costume is very interesting. Afong is able to tear off pieces of designer Jung-Hye Kim's beautiful colourful robe, until she is wearing simple black pajamas. Costume reflects mood, as it were. As ever, Kimberly Purtell's lighting is evocative, as is Gloria Mok's sound design.
I found the play particularly disturbing. Exploitation, exoticization, dehumanization, voyeurism – the living exhibit that is Afong and the picture of the United States that is painted through her words. Playwright Suh has made The Chinese Lady a travelogue through American history and it is not a pretty sight.
What a brilliant use of a footnote!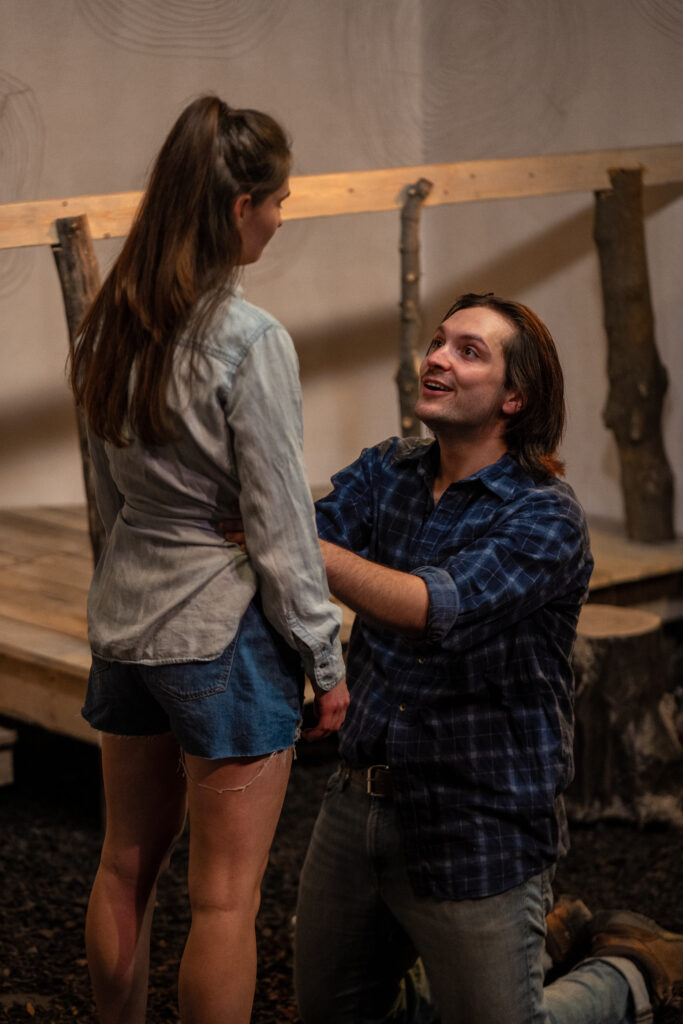 One Four One Collective, in association with The Assembly Theatre/Bone Cage, written by Catherine Banks, directed by Cass Van Wyck, Assembly Theatre, May 5 to 20. Tickets at Eventbrite.ca.
Nova Scotia playwright Catherine Banks has won the Governor General's Award for Drama twice which is no mean achievement, and thanks to the One Four One Collective, we're getting one of her winners presented here in Toronto.
As I was watching Bone Cage (2007), it crossed my mind that we don't very often see plays about the rural working class, which, apparently, was a reason for Banks' GG win. The setting is a lumber town, and most of the characters are involved in some way with the forestry industry. Banks' metaphor is starkly evident. As the workers clearcut the trees, they are not only destroying the environment, they are also blighting their lives.
Take the lead character Jamie (Daniel Reale), for example. He runs a tree processor, which, according to the definition I looked up, is a machine that removes the branches and tops of the trees, cuts the wood to the required length, then sorts it into piles to be efficiently loaded onto trucks. After each shift, however, Jaimie walks through the devastation, looking for injured birds and animals for rescue. He, like a few of the other characters, would like to flee this life, but remains rooted in place.
I looked up the short poem The Bone Cage by Anton Ansford (he is apparently from New Zealand), that is quoted in the text, and gives the play its title. The premise seems to be that we all live in a cage of flesh and bone, the difference between us being the tightness of the bars. For some of the characters in the play, the tightness is like a vice.
Banks has fashioned her characters around three sets of brothers and sisters, and the plot focuses on their tangled relationships. According to the play script, their ages range from 14 to 25.
The siblings include Jamie and his half-sister Chicky (Kaitlin Race), Kevin (Cooper Bilton) and his sister Krista (Jessi Elgood), and Robby (Atlin Hofer) and his sister Lissa (Karen Scora). The seventh character is Clarence (Jimi Shlag), who is Jamie's father (but not Chicky's although she lives in the house).
And now for the complications.
Jamie, in his early 20s, is about to marry Krista who is a teenager still in high school. She is the one who quotes the poem that is part of her homework. She is wedding obsessed.
Chicky, a couple of years older than Jamie, is a farm worker. She lost her reputation at 15 by having an affair with the married man Reg who owns the farm. She is another one dying to leave.
Kevin is a chainsaw worker who lusts after the older Chicky, but takes shameless advantage of Lissa who is a 14-year-old innocent. Robby also works on the farm and is considered slow, but is fiercely protective of his little sister.
Clarence is on disability and is a bitter man with a terrible relationship with son Jamie. Step-daughter Chicky tries to look after him (and Jamie) but gets little respect.
The way Banks weaves and twists the encounters between the characters is at the core of the play. She presents a collision of dreams, layered with a lack of understanding, and a longing for something else. Sometimes motivation is clear; sometimes it is not. Each character is basically in his or her own bubble to the exclusion of the needs of everyone else. At the end, Banks slips into magic realism, giving a few of the characters direct speech to the audience so we do see into their souls. Nonetheless, the picture is bleak. Growing up in this harsh world of rural Nova Scotia is a difficult journey, and Jamie's heart-felt angst is at its centre.
Director Cass Van Wyck has done heroic work in negotiating her rather large cast through the postage-size stage and the play's many scenes. She has clearly worked hard on character, and while the acting may be uneven, the production overall does have its punch. We feel the pain.
A bridge is an important set piece, but the company probably had a budget of $2.59. Designer JB Nelles created a platform and a railing, with the platform pulling out to be a table, which is a bit awkward to say the least. Burnt out logs turn out to be stools when turned around. Selina Jia's realistic costumes look right out of Value Village, and probably are. Chin Palipane's lighting is minimal, while Zach Parsons' sound design covers the scene changes. In other words, they have done what they can with limited resources and should be applauded for that.
Reale as Jamie is a terrific actor and dominates the stage. Race's Chicky is also very good, but the others do give a decent account of themselves to varying degrees. The pacing is ragged at times, but you do get a sense of the ensemble's commitment to the play and their characters.
I have a lot of time for the One Four One Collective. They tend to find strong material to stage and do their best to bring it to a satisfying fruition. They mount interesting theatre in Parkdale.