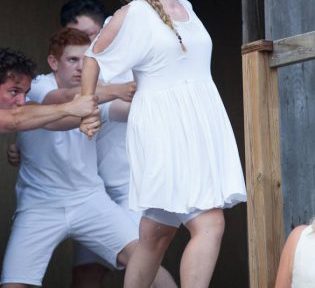 The 4th Line Theatre bill of fare is typically jolly and/or whimsical, and always informative because of a tie-in to local historical happenings. (The outdoor summer theatre is located on a farm near Millbrook, Ontario.) The world premiere of Who Killed Snow White? by Judith Thompson is a radical departure. Thompson is a distinguished Canadian playwright who writes with her heart on her sleeve. Who Killed Snow White? addresses sexual assault, cyberbullying and teenage suicide head-on. In her program notes, Thompson says that the wellspring of the play was the heart-breaking life and death story of Rehteah Parsons, an infamous 2013 case of cyberbullying that made national headlines. The traditional 4th Line audience, who usually comes to the theatre for a good time, is going to find a serious treatment of a serious subject.
Thompson's heroine is a young girl called Serena (Grace Thompson) whose life is presented from cradle to grave. By tracing Serena's life story, clearly Thompson is trying to come to grips with why Serena is so overwhelmed and destroyed by being plastered over social media, that death is preferable to living. (The posted video shows Serena lying naked and unconscious being sexually assaulted by a trio of boys at a party.) Thompson hypothesizes that Serena has always been fragile. From her early years, she was sensitive and an outsider, which made her an easy target to be bullied by the more popular girls. In fact, Serena is devastated when her one and only friend Fancy (Cassandra Guthrie) ditches her to join the ruling clique. In her teenage years, Serena is still an outsider, but she has a support system. Fancy is back in her life, and the girls have a firm friend in the openly gay and fellow outsider Riley (Tom Keat). Yet, despite a loving family and loving friends, Serena cannot survive the onslaught of negative social media.
The playwright tries to bring out many points of view. The narrator Ramona, Serena's mother (Cynthia Ashperger) drives the telling of her daughter's story with her rage, asking the audience if they can see where and how Serena's fate was sealed. In Ramona's powerful speeches, Thompson has embedded all the frustration, helplessness, despair and incomprehension that the tragedy has left within her. The parallel lives of the spoiled brothers, one of whom gives Serena the date rape drug, is also presented. Pratt (Steven Vlahos) and Dodge (Andrei Preda) are brought up to be manly men by their Uncle Si (Christian Lloyd), who speaks for the male state of entitlement. As police chief, Si makes the boy's indiscretions go away. On the other hand, Dodge, who is against the assault of Serena, still supports his brother in the cover-up because family is more important than truth. Fancy's grandmother Babe (Maja Ardal) represents the older generation of women, who as lesser vessels in society, learned to manage men. Doreen (Saskia Tomkins), the mother of Pratt and Dodge, is her sons' enabler because, in denial, she sees them only as good boys. Rounding out the main cast are Vlad Khaimovich and Joseph Roper, who join with Pratt in taking part in Serena's rape, and Mark Hiscox as Serena's loving but ineffectual father.
Writing character has always been a Thompson forte, and there are strong portrayals in this play. In fact, the acting is excellent overall, with Ashperger and Grace Thompson (the playwright's daughter) being standouts. Even though some of the monologues are obvious in message, and Thompson does use words as a cudgel to hit the audience over the head to make a point, there is no denying the fact that the play does pack a wallop.
Who Killed Snow White? is a vehicle that could be performed by just a few people in an empty school gymnasium. What is fascinating about this production is how director Kim Blackwell has opened it up to accommodate the main barnyard performing space and the fields beyond, with her actors ranging far and wide. Blackwell presents Serena's story as a Greek tragedy, because, sadly, cyberbullying and teenage suicide have become a universal theme in today's world. Set designer James McCoy has added a facade of a Greek colonnade onto the barn, with a further archway in the field. The stonework appears to be crumbling – a metaphor for a civilization in ruins, perhaps? Costume designer Meredith Hubbard has clothed the entire cast in white Greek-style tunics with wreaths of vine leaves for their hair. The uniformity of the stark visual concept works very well indeed.
One of 4th Line's charms is that it mounts productions with very large ensembles. A director can always round up a humungous cast that includes very young children right up to the older generation. A remarkable aspect of Who Killed Snow White? is that it features a company of 17 young people who represent the Greek Chorus, and Blackwell, working with choreographer Monica Dottor, has fashioned some very evocative movement patterns for them. For example, to represent the bullies, the Chorus is wedged into a phalanx that bears down on Serena. These young people are almost always on stage, either in the barnyard or in the field, shaped into some telling formation or other, and are a very strong visual component to the show.
There is none of the usual 4th Line live music in this production. Rather, the cinematic soundtrack that runs throughout includes an atmospheric score by composer Justin Hiscox and ambient sound by Esther Vincent. It is a rich background that adds depth, breadth and gravitas to the production. Taken together as a whole cloth, Who Killed Snow White? works on every level.
And a few final notes. The program includes a flier from the Kawartha Sexual Assault Centre with a 24-hour help line, a timely feature indeed. In a conversation I overheard at intermission, two elderly gentlemen were talking about the play, and one of them said, "Isn't it terrible the pressure young kids are under these days?" Clearly, he was getting Thompson's message. At the very end of the play, which is a devastating recital by the cast of the names of young people who have killed themselves, I noticed that the middle-aged couple across from me, both the man and the woman, were wiping away tears. Blackwell's leap of faith to mounting more serious fare such as Who Killed Snow White? has clearly touched the audience.
4th Line Theatre 2018, Who Killed Snow White? by Judith Thompson, Winslow Farm, Millbrook ON, Aug. 6 to 25.