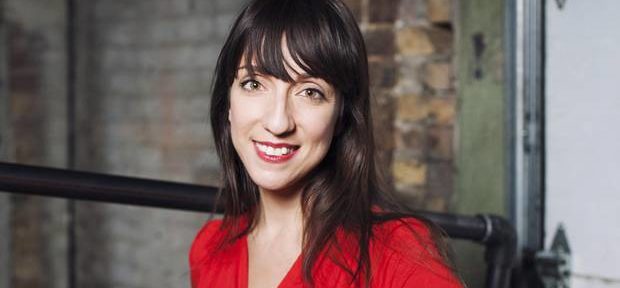 INTRODUCTION
Laura Nanni, 38, is a mover and shaker in the arts. She is a curator, artist and producer, who since 2016, has been the artistic and managing director of the prestigious SummerWorks Performance Festival, Toronto's annual curated showcase for contemporary new work in theatre, dance, music, live art and multidisciplinary productions. She has also been on the staff of some of the city's most experimental forums such Nuit Blanche, the Rhubarb Festival and HATCH. Nanni's wide background also includes front of house, stage management and programming experience with important arts organization such as the Stratford Festival, the Luminato Festival and the Toronto International Film Festival. Her career also includes mentoring emerging producers and curators, most notably for the Banff Centre's Leadership Development Program. Her own creative endeavours include performance and installation work, often site-specific, that has been presented across North America, the UK and Europe. Both artistically and administratively, the prime focus of Nanni's career has been on experimentation, community building, and interdisciplinary collaboration.
As SummerWorks heads into its 28th season (Aug. 9 to 19), Nanni gave paulacitron.ca a wide-ranging interview about her relationship with the festival, and the festival's relationship with the cultural scene in general.
THE INTERVIEW
Where did you study, and what was the wellspring of your career focus on arts experimentation?
I did my degree in theatre and visual studies at the University of Toronto. The epiphany for me was bluemouth inc.'s 2003 production of What the Thunder Said. We were blindfolded and taken on a bus to a warehouse. This site-specific work, a mix of dance, visuals and theatre, showed me the possibilities of what performance could be. I've been a passionate supporter of innovation ever since.
(Note: The devised work, What the Thunder Said, is the third part of the trilogy, Something About a River. It used the metaphor of the family to examine the political and emotional contradictions that face society today.)
How does SummerWorks contribute to experimentation?
 We help artists to realize new ideas, to take creative risks. We nurture innovation by creating spaces where they can experiment and find solutions. At the same time, artists can find something new about a piece that they didn't know that they were looking for. Experimentation can often mean learning something new about yourself that can be unexpected or exciting.
What have you seen as key factors in your job?
Evolving a structure that can be sustainable for artists – not growing in size, but developing the artistic environment. And discovering who we are engaging with, and playing too. The ecology of SummerWorks has always been a platform that artists aspire to, and we must maintain that. The productions are multidisciplinary – we cover dance, music and hybrid works. We also have a very adventurous audience, and both are part of the mix. The festival is highly regarded nationally and internationally. We attract 30 to 50 presenters a year. These curators come to discover work to be shown elsewhere. I inherited an artistically strong entity. My job is to discover how we can improve on that strength by determining our platform needs.
You mention that you don't want the festival to necessarily grow larger.
Because of increased volume, larger festivals can tend to embrace cookie cutter formats. In SummerWorks, we can address questions like, how can we be more nimble in addressing artist-specific needs? For example, does an artist want their work to evolve during the festival? Does a work need rehearsal time between shows? What spaces can support new technology? I believe we can keep reimagining our relationship with artists and be responsive to individual demands, while not forgetting that we are a place where artists, audiences and presenters want to come. We can be a resource for artists. We want to get better, not bigger by finding the right essence of evolution.
Part of the thrust of this year's festival is reframing? What do you mean by that?
We have formalized practices that have been ongoing at the festival for some time by naming three official streams. This way the audience absolutely knows what they are getting. Presentations is the showcase of contemporary performances that have had extensive previous development or are touring productions. Lab is a place for work being shown at a crucial stage of development that needs to be performed before an audience. These artists are experimenting with form or new technology, and have feedback sessions with the audience. Exchange is for the industry and arts professionals, and includes such things as open studios, the presenting of early works, workshops, and meet the artists.
How do you choose the SummerWorks programming?
I read every application myself, and there is also a different multidisciplinary artistic advisory committee each year to help formulate the short list. There are even follow-up conversations with some applicants about their goals. The Lab is a special call project because of the special nature of these shows. Applicants identify the multi-genres that apply to their productions by checking discipline boxes. The emphasis overall is on new work, but obviously, the curating of what proposals rise to the top is more complex than that. How much dance and music should there be? You have to think about balance. What about the range of artistic forms? What conversations can develop between works? What can we learn from them? What connections can happen? Are we targeting specific audiences, and if so, how do we create an overlap? All these considerations play a part.
SummerWorks has waved the $700 participation fee. Is that not a big drain on your budget?
True, the fee did help defray infrastructure and production costs. We have certainly had to readjust the budget and the calibration of expenditures, and we are actively looking for a core sponsor or infrastructure donor. On the other hand, one of my key priorities is accessibility. Waiving the fee has encouraged a growth in the number of applicants, which shows that we are moving in the right direction by taking away that barrier. This year we had 300 applications, 50 more than last year. We want artists to take creative risks, not financial ones.
How else is accessibility manifesting itself?
This year we have an accessibility coordinator, Victoria Lacey, to oversee this aspect. All venues will have ASL interpretation and relaxed performances. We also have Tangled Art + Disability doing an audit. This is an organizations that presents the work of and enhances performing opportunities for artists with disabilities. They also provide consultancy services and examine cultural shifts concerning the disabled. How we can support artists, audiences and staff members identified as disabled, is part of our long-term discussions with Tangled Art. Accessibility is a multi-year commitment for us.
Can we talk about nuts and bolts, so to speak? How many shows, out of town productions, number of performances for each show, box office split, venues, ?
This year there are 32 productions equally split between Presentations and Lab. It happened that way organically. Five projects are from outside Toronto or international. Six shows are collaborations between Toronto-based artists with either Canadian or international artists. The average performance number for Lab productions is three, while Presentations have five showings. The artists get 70% of the box office, the festival 30%. There are two venues – three spaces at the Theatre Centre, and six spaces at the Toronto Media Arts Centre. The latter is a new cultural hub that is two floors under a condo on Lisgar, so, on the same street as the Theatre Centre. It is a home for media arts and new technology. We really wanted to centralize the festival footprint this year so people can get easily from one building to another.
It seems to me that being both artistic director and managing director is a huge job.
The structure is changing. Originally the board amalgamated the two jobs to make it a more fulsome fulltime position, with me as the only permanent employee. The rest of the staff is on contract. This year there will be a festival producer, Rosanna Lowton, who will stay on beyond the actual festival, and who will be my collaborator. Her responsibility will include management and operations. I will be in charge of artistic and strategic planning. The main point is, our jobs will be evolving together.
In summary, how would you define SummerWorks?
How we represent ourselves is important. My hope is that we will always remain responsive to the needs of the community, and that all change will happen with that in mind. At our heart, our core, is the possibility of performance – how performance is presented, created and experienced.
(SummerWorks Performance Festival runs Aug. 9 to 11 at the Theatre Centre and the Toronto Media Arts Centre.)