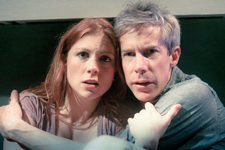 I had a very interesting conversation with an elderly lady after the show. It started in, where else, the washroom. She asked me how I'd enjoyed Stockholm, and I said I thought it was brilliant. She, on the other hand, hated it because she thought it was about nothing. But nothing couldn't be further from the truth, and that is the heart of playwright Bryony Lavery's genius – the ability to write with such grace that the dialogue dances on the surface, but hides a great depth.
Kali and Todd are a perfect modern couple. They are about to celebrate Todd's birthday with a romantic dinner before their get-away to Stockholm, their favourite city. They both happen to suffer from Stockholm Syndrome in their relationship. They are so tied to each other in the game of master/victim, and victim/master that it has become the rot at the central core of their relationship.
Right from the start, there is tension. As Kali, Melissa-Jane Shaw gives an astonishing performance. She is a seductive siren, or so she seems. Todd (the excellent Jonathon Young), wants to cook their romantic dinner, but Kali is always throwing him curves. She demands his attention, and he always gives in. She wants sex, for example, and he complies. The rhythm of their lives is staccato because Kali is always interrupting the flow. She's a seductive siren with an underlying motive – total control. The charismatic Shaw radiates danger as Kali, and is positively frightening as the play carries onward..
When Todd finally rebels, and they switch roles, all hell breaks out, and a terrible physical fight ensues. It turns out, however, that Todd glories in the brutal physicality, and you realize that he lives for this moment. Young reveals his inner strength slowly, a difficult process and a great feat of acting, yet it is essential for the role. Can this marriage be saved? The answer is both no and yes. They like it the way it is. Lavery's scary epilogue, which I won't spoil, shows the two in a moment of truth. It's a very dark ending to a very dark play.
The text is enhanced by third person dialogue. The distance seems to help us focus into their sickness all the better because it places it in stark relief. At times, highlighted by a specific soundscape designed by Verne Good, they become "Us", where they comment as a reality check – a further Lavery layer. Yet there is humour, albeit of the nervous kind on the part of the audience. This carefully written layered dialogue, coupled with the precision direction/choreography, makes for a very unsettling show.
Director Kelly Straughan and choreographer Susie Burpee have come together to create physical theatre at its best. All the surfaces of designer Lindsay C. Walker's kitchen are in play. The couple are on the ground and in the air, yet none of this seems surreal because they are anchored by the weight of both the pointed dialogue, and the sick violence of their relationship. I am also delighted that Straughan elected not to use British accents. This is a play for all times.
In the final analysis, the washroom lady didn't look deeply enough. What she didn't know is that my guest had relived the trauma of a former marriage during the play. That's how realistic it was for  him. Stockholm is brilliant in its subtlety, and that is a mark of great writing. Shaw and Young are masterful in revealing the arc of their characters, and the circular nature of their relationship. Kudos to Straughan and Burpee and the rest of the creatives.
Stockholm is both a disturbing and exhilarating piece of theatre, all at the same time. It's a don't miss.
Stockholm by Bryony Lavery, Seventh Stage/Nightwood Theatre, (starring Melissa-Jane Shaw and Jonathon Young, directed by Kelly Straughan and choreographed by Susie Burpee), Tarragon Extra Space, May 11 to Jun. 3, 2012