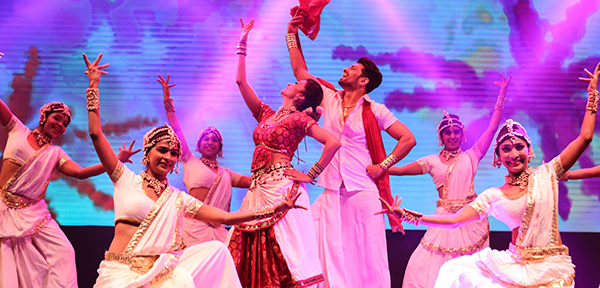 As soon as Taj Express was over, I wanted to sit through it all again. That's how much fun I had at this Bollywood dance and music show direct from India. Who cares if the storyline is thin? The main thing is the spectacle, and with 20 dancers wearing 1000 costumes and 500 accessories (courtesy of designer Bipin Tanna), Taj Express is wall-to-wall, glitz and glamour entertainment.
First we should mention the Merchant family of Mumbai (no relation to Ismail of Merchant Ivory film fame). For three generations, the Merchants have been purveyors of Bollywood, and remind me of Brazil's Pederneiras family, where every aspect of dance company Grupo Corpo features a member of the clan. Take Taj Express, and I'm assuming they are all related. Director (Shruti), choreographer (Vaibhavi), executive producer (Pranav), and composers (Salim and Sulaiman). The family apparently packages shows for the foreign market, and not the domestic one. On the other hand, the domestic market has direct access to the over 2000 Bollywood movies that are made each year.
Note should also be made of British writer/director Toby Gough who specializes in working on shows involving diverse cultures world-wide, such as Bosnia, Barbados, Cuba, Brazil, Sri Lanka, Thailand, the gypsies of Romania, the monks of Tibet, Australia and New Zealand's indigenous population, the continent of Africa, not to mention India.
Basically, Taj Express (2017)is a dazzling song and dance extravaganza, but there is a story of sorts. Shankar (Ninad Samaddar) is a young film composer who wants to emulate the international success and fame of Bollywood music legend A.R. Rahman (Slumdog Millionaire). Rahman, incidentally, is a friend and sometime collaborator, of the Merchant family. We follow Shankar in his studio as he composes the score to a new romantic film, Taj Express, with his session band, Arjun Dhanraj (guitar and comic relief), Prathamesh Kandalkar (percussion), and Avadhoot Phadke (flute). As an aside, Dhanraj can certainly wail on the guitar like his idol, Eddie Van Halen. Shankar also has to put up with non-stop, conflicting demands from his producer, Raj Pakora (voiced by prominent Indian actor Denzil Smith).
The relentless parade of song and dance numbers are the scenes that Shankar envisions happening in the movie to his music. Arjun (Rajitdev Easwardas) is a sort of social worker in the slums of Mumbai where he runs a classical dance school to keep the children out of gangs. Kareena Kaboom (Tanvi Patil) is a famous Bollywood star who wants to escape her celebrity. Arjun and Kareena meet when he saves her from a car crash. In the second act, the two board the Taj Express to get away from Mumbai, which is an excuse to include both religious rituals and ethnic dances from various parts of India, and which are additional gorgeous exotica to the de rigueur Bollywood in sync. The ending of the movie is pure hokum, as only Bollywood can make it. I can only imagine what wardrobe is coping with backstage, as each number sports different costumes, each more eye-catching than the one before.
Easwardas and Patil, and the 18-member chorus, many of whom perform solos, are sensational dancers, and the impact of the group ensembles, especially with everyone moving in sync, is mind-boggling eye candy. The choreography is quite complex, particularly as it is driven by the beat of the various musical motifs. How the dancers get through the high-energy show and are still breathing at the end is a marvel. The action never flags, not even during the slower romantic duets, or religious observances, because they shimmer with beauty. Arjun and Kareena have some very touchy-feely partnering, and I wonder if theses duets could even be performed in India, given the strictures on touching and kissing in Indian movies.
Simply put, Taj Express is a good time theatrical experience, and not to be missed. It's a class act in every detail.
TO Live & Quintessence Entertainment Productions, Taj Express, directed by Shruti Merchant, choreographed by Vaibhavi Merchant, Bluma Appel Theatre, Nov. 23 to Dec. 1, 2019.