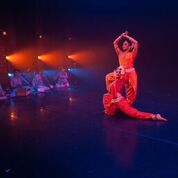 Toronto used to be awash in national and international dance, but over time, financial problems led to the demise of key dance series. That is why Fall for Dance North is one of the best things to happen to the local dance scene in years.
FFDN is modelled after Fall for Dance, the storied series launched in 2004 by New York City Centre, the legendary home of performing arts in the Big Apple. With the idea of developing dance audiences, the premise is simple. Create programs with top-notch diverse dance companies, and charge only $10 a ticket, whether the front row of the orchestra or the last row of the balcony. Although the ticket price in New York is now $15, the format remains the same. Currently, the festival mounts five different programs over 10 nights. It is always an instant sell-out.
Fast forward to Toronto, 2015, and Fall for Dance North. The visionary behind FFDN is 35-year-old, Turkish-born Ilter Ibrahimof who began his career in New York as an artists manager/agent before becoming a producer/presenter. In fact, for the last two years, he has been a curator – meaning helping to choose companies – for City Centre Fall for Dance. When Ibrahimof started his own management/presenting company in 2004, he relocated to Montreal (spurred on by a bad romantic break-up). By sheer coincidence, as of a couple of months ago, he now lives in Toronto because his life partner was accepted into law school here.
So what is the genesis of the northern version of Fall for Dance? Ibrahimof says it was sheer impulse. "I felt that Toronto was ripe for this kind of festival mode," he relates. That impulse also coincided with a 2013 meeting with Mark Hammond and Madeleine Skoggard of the Sony Centre's programming department. The encounter took place at a booking conference in New York; the Sony duo were looking for talent, and Ibrahimof was there as an agent selling talent. Ibrahimof's idea of a Toronto version of Fall for Dance fell on willing ears, with Skoggard making it a pet project. Ibrahimof then came to Toronto to check out the Sony Centre, liked what he saw, and knew he had a venue. Fall for Dance North was incorporated as a not-for-profit company.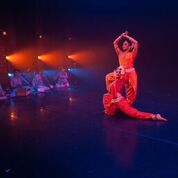 What is quite astonishing is how Ibrahimof and Skoggard got FFDN ready in just two years, particularly since Ibrahimof virtually knew no one in the city. "I had to start by getting the dance community onside," he explains. "You can't drop a dance festival in the middle of a city and ruffle feathers. You need their support." That meant starting at the top and approaching the National Ballet first. With Karen Kain giving the National's seal of approval, Ibrahimof and Skoggard had to then create a board of directors. They also met with the various arts councils and funding bodies to explain what the festival was about, which was followed by the onerous task of writing grant applications. Most of the $650,000 budget has been raised, but to help cover a $50,000 shortfall, Ibrahimof has come up with a great plan – sell 20 of the best seats in the house for $500 each, which includes a tax receipt, backstage tour, and a signed, framed poster.
FFDN's tickets are $10, and there are two programs over three nights. Future festivals will be half Canadian and half international, but this festival debut is slightly more Canadian. The statistics are impressive – eleven companies that run the gamut from contemporary ballet and modern dance, to capoeira, flamenco, tap, South Asian and Aboriginal; two companies making Canadian debuts and one a Toronto debut; two world premiere commissions; and six performances accompanied by live music. The shortest piece is a three-minute solo, while the longest is a 32-minute ensemble for 19 dancers. Ibrahimof chose 90% of the repertoire, knowing exactly what he wanted to see on the stage.
Education is an important component of FFDN, and is also a concrete way of involving the dance community. Dance Collection Dance, a Toronto group whose focus is dance history, has put together videos of Canadian dance performances which are being shown on flat screen TVs in the Sony lobby. The house programs, in partnership with The Dance Current, contain a dance guide to the whole Toronto dance season, as well as comprehensive notes on the performing companies and repertoire. There are also master classes and artists' talks.
Says Ibrahimof: "My dream is to have Fall for Dance North run four nights, with three unique programs featuring 15 to 20 companies – two programs at the Sony Centre, and one more adventurous program at a smaller theatre. This tried and true format attracts young audiences which is exciting. Any audience member in their twenties will not have experienced an international dance series in Toronto in their lifetimes. It is the right festival, at the right time, for the right city."
Program 1 (Sept. 29, 7:30).
The National Ballet of Canada (Ballet)
Toronto Dance Theatre (Modern)
Alvin Ailey American Dance Theatre (Contemporary)
Nrityagram (Toronto Debut/Classical Indian Odissi)
Inter-Hoop (Festival Commission/Aboriginal)
Atlanta Ballet (Canadian Debut/Contemporary Ballet)
Program 2 (Sept. 30 and Oct. 1, 7:30).
Ballet BC (Contemporary Ballet)
Alvin Ailey American Dance Theatre (Contemporary)
Dance Brazil (Capoeira)
Peggy Baker and Sarah Neufeld, violinist of Arcade Fire (Festival Commission/Modern)
Dorrance Dance (Canadian Debut/Tap)
Esmeralda Enrique Spanish Dance Company (Flamenco)