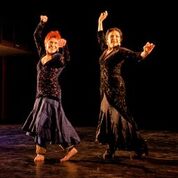 DanceWorks 40th Anniversary Presentation takes place at Harbourfront Centre Theatre, Nov. 16-18.
When DanceWorks began 40 years ago, it was one of several presenter dance series in Toronto. Now, as it celebrates its 40th anniversary, it is almost the only game in town, which makes its longevity all the more notable.
One expects tributes to the past on such an anniversary and DW curator Mimi Beck's program certainly gives us that look back. There are also several premieres, and this old/new viewpoint makes for an enjoyable totality. Pieces from 1981 and 1995 are given new life, while the other three works are brand new.
How good it is to have Learie Mc Nicolls back on a Toronto stage. The dancer/choreographer is another Torontonian who has moved to Hamilton in search of cheaper housing. Mc Nicolls is responsible for two works on the program, and both reflect his quirky approach to movement – those tell-tale, abrupt changes of direction, those short, quick, staccato body impulses, for example. The solo
The Night Journey has Mc Nicolls as a bold, commanding and dominating presence on stage inspired by a soundscape of Dutch musician Wilbert de Joode's solo double bass riffs. Judith Sandiford (another ex-Torontonian) is responsible for the eye-catching if moody, grainy live projections of Mc Nicolls, which adds to the mystery of the piece. The excerpt duet from Mc Nicolls' 1995 Dancing with the Ghost, wonderfully performed by Jennifer Dahl and Robert Glumbek, is a witty girl-meets-guy parody. They go through a physicality of angst before giving up in a "what the hell" attitude of resignation as they leave the stage in separate directions.
Another blast from the past is Holly Small's 1981 Cheap Sunglasses, but with the twist of gender reversal. Originally, Small danced while composer Robert Stevenson's sound poetry score was performed by men. This time male dancer Evan Winther takes centre stage (sporting the cheap sunglasses) while a quartet of women (Jocelyn Barth, Minjia Chen, Bea Labikova, Laura Swankey) vocalize the very peculiar soundscape of noises. Small has always had a wry sense of humour and this piece shows that attribute to the max – an individual seemingly at the mercy of the music, but showing a devil-may-care attitude nonetheless. Winther, a York University student, is a most eye-pleasing dancer to watch, at once supple, graceful and crisp of attack.
Twenty years ago, kathak dancer Joanna de Souza and flamenco dancer Esmeralda Enrique created their duet Firedance, a smash hit which travelled far beyond DanceWorks. Now the women have added Amalgam to their distinguished careers. What is so delightful about this work is how they move in sync. They perform the same steps, but as a flamenco dancer and a kathak dancer would. Of more importance is that these women of a certain age still have the fire in the belly when it comes to their solos. The fabulous original world beat score, composed by the performers, contains a flamenco guitarist (Caroline Planté), a tabla player (Santosh Naidu), a bass guitarist (Ian de Souza), and the always marvellous and brilliant Arabic singer Maryem Hassan Tollar. This performance by dancers and musicians a like, is a class act.
The most surprising piece of the evening is Denise Fujiwara's Moving Parts, a finale that has armies marching, meaning nine dancers, two musicians and a huge choir led by Cathy Nosaty. I say surprising because Fujiwara is Toronto's queen of the dark, deep and melancholy butoh dance, yet she has come up with choreography that hops, skips and jumps for joy. The score features tuneful pop songs with lyrics proclaiming hope in the face of disaster, culminating in the Parachute Club's Rise Up, which becomes a community sing.
Long may DanceWorks continue to present Toronto and Canadian dance artists.
DanceWorks 40th Anniversary Presentation, featuring works by Learie Mc Nicolls, Holly Small, Denise Fujiwara, and Joanna de Souza and Esmeralda Enrique, takes place at Harbourfront Centre Theatre, Nov. 16-18.