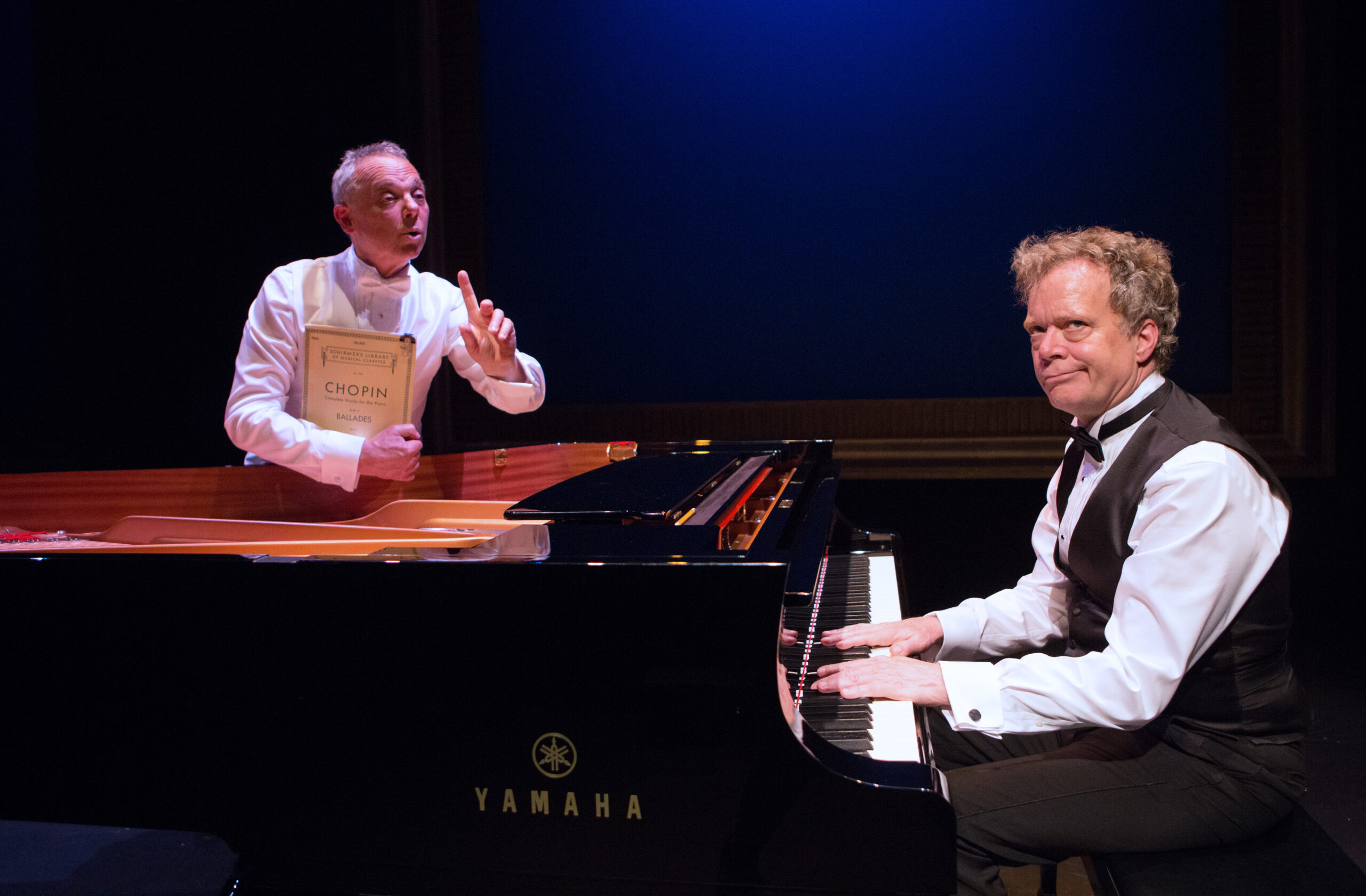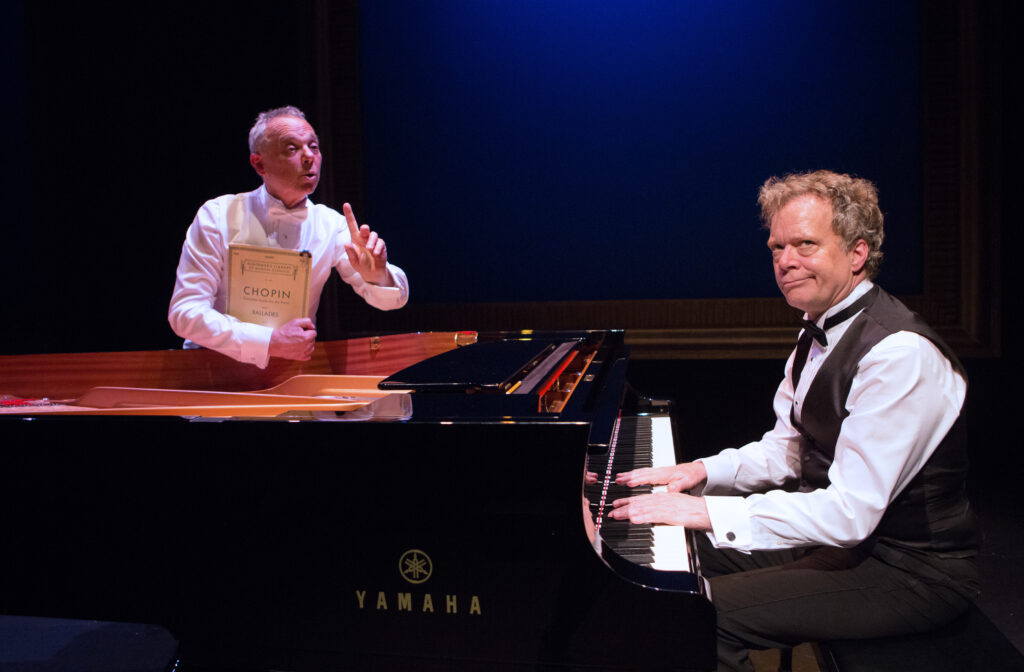 Revivals Rock!
Three productions this season showed that some plays deserve a long shelf life. 2 Pianos 4 Hands, The Ex-Boyfriend Yard Sale, and 'da Kink in my Hair found whole new audiences many years after their premieres. Yes, we always want new plays, but contemporary classics deserve their place. They are the Shakespeare and Chekhov of tomorrow.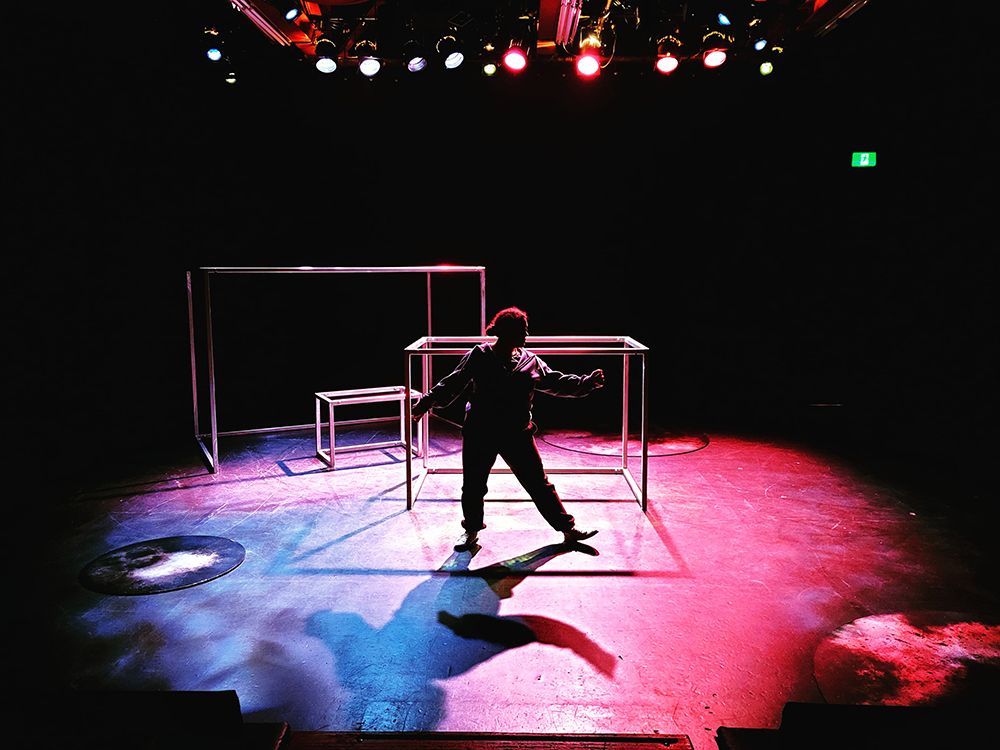 Let's Give a Shout Out for Herbie
Herbie Barnes is in his first year as artistic director of Young People's Theatre, and he is scheduling important work like Bentboy for little kids, and Celestial Bodies for older ones. The former follows a young disabled Indigenous boy and how the other children come to respect him. The latter, a touring show from Montreal's Geordie Theatre, is all about learning to overcome bullying, fat shaming and image identity. Judging by the Q&As that followed both performances, the kids, both young and old, really got the plays' message.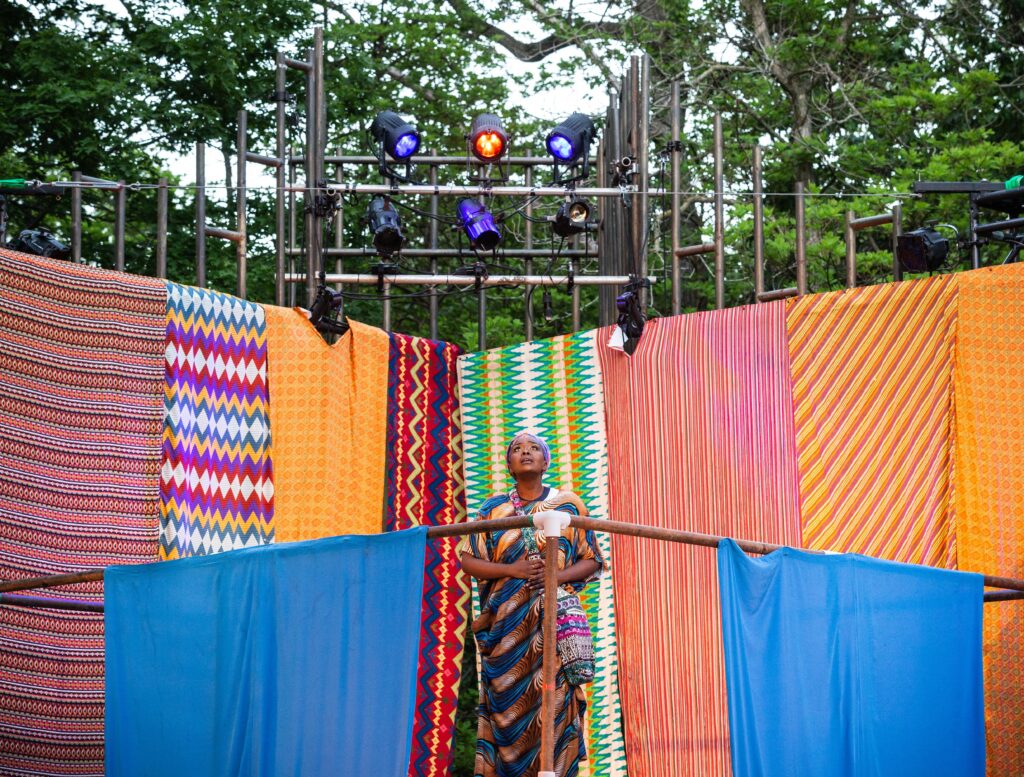 All Hail Fatuma!
Congratulations are in order to the Musical Stage Company, (in partnership with Canadian Stage and Obsidian Theatre), for taking a chance on Fatuma Adar and her new musical Dixon Road. The show delves into the trials and tribulations of members of an immigrant Somali family. Adar is an uber-talented polymath who astonishingly wrote the book, music and lyrics for Dixon Road. While the show is not perfect script-wise, it certainly was a success with the outdoor High Park audience. To say we'll be hearing more from Adar, who already has a successful career as a writer and performer, is an understatement.

Sometimes You Just Want Charm and/or a Good Time
Not every minute spent in the theatre has to be disturbing or unsettling, or a laugh out loud comedy. What about the quiet, feel good experience? Take for example Fisherman's Friends (Mirvish) and The Waltz (Factory Theatre/Blyth Festival). The former is a big-scale musical from London about a group of Cornishmen who sing sea shanties for their own amusement (and raising money for charity), but became a big hit in the British Isles, much to their astonishment. While I thought the script was lame, I didn't care because the old folkie in me was having such a good time reveling to the music. The Waltz is Marie Beath Badian's sequel to Prairie Nurse, and this time features second generation Filipinos. The two-hander is sort of reminiscent of Salt Walter Moon, as two young people struggle to find their footing. At the end of this sweet show, I had the warm fuzzies, and that felt just fine.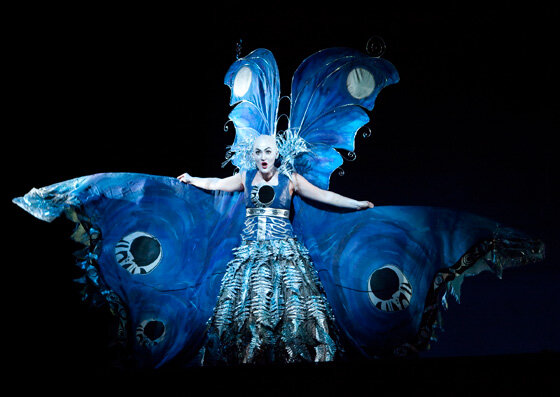 A Different Kind of Opera Heroine
The Queen in Me (Canadian Opera Company, Amplified Opera, Nightwood Theatre & Theatre Gargantua) is a one-trans person show created and performed by soprano Teiya Kasahara (who has the chops to sing the notoriously difficult role of Queen of the Night from Mozart's The Magic Flute.) In this brave show, peppered with great opera music, Kasahara explains that she is not the ultra-feminine girlie girl defined by her soprano fach. She is, in fact, working to redefine the opera world by fighting racism and misogyny from within. They are determined to survive as the queer, mixed-race singer that they are.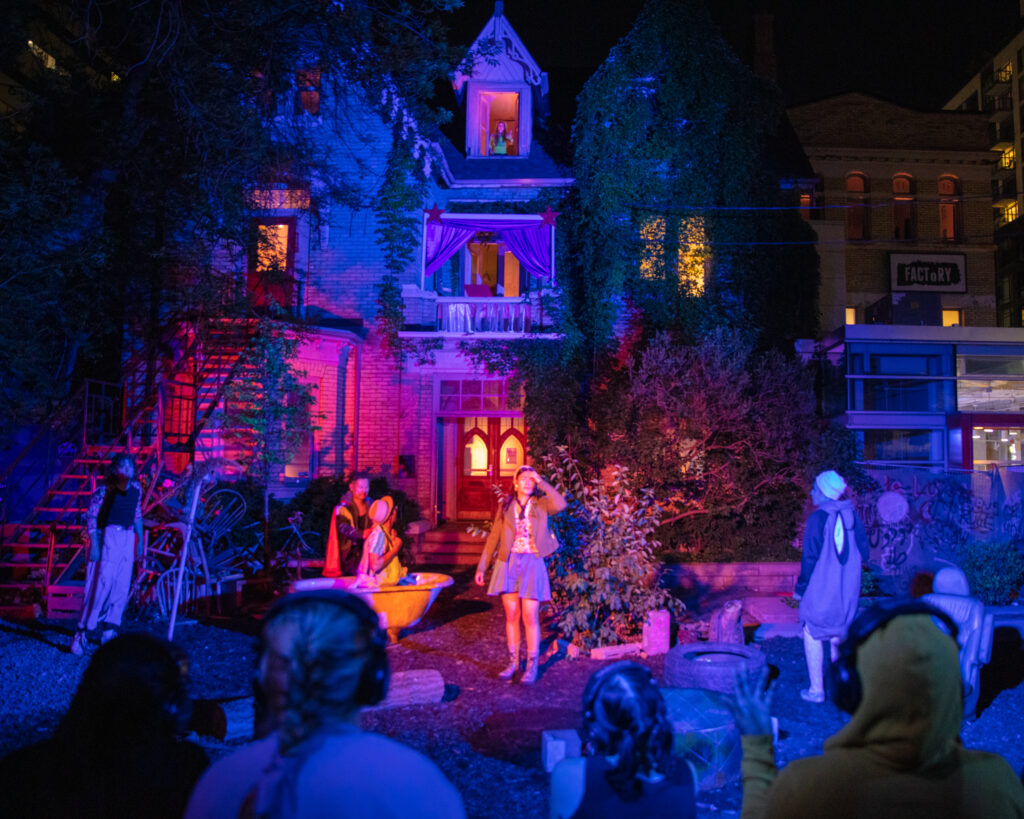 Is Experimentation Good for the Soul? There were two high profile experiments this season that bear mentioning, simply because of the lofty positions the companies hold in the theatre community. Over at Soulpepper, they ran Shakespeare's King Lear in tandem with Erin Shields' Queen Goneril with the same cast and set. I'd like to say that both were a success, but alas, there were problems. Director Kim Collier's King Lear was messy, particularly in diction and character development. It was also hard to believe that the three daughters who shone with brilliance in Queen Goneril were such acting non-entities in King Lear. Shields' play, deftly directed by Weyni Mengesha, is set seven years before King Lear and tries to build a rationale why Goneril and Regan ended up as sharper than a serpent's tooth to their father. She somewhat succeeded but the play was over-complicated. In terms of the other experiment, the always forward looking director Mitchell Cushman had two plays running simultaneously which he called an immersive experience (courtesy Outside the March, Factory Theatre & Neworld Theatre). Trojan Girls took place in the Factory courtyard, and The Outhouse of Atreus indoors with actors running between the two, playing different characters in each. The audience saw one play, and then switched to the second. Yes, it was all very clever, but playwright Gillian Clark's updated scripts for her New Troy adventures were a mish-mash of ancient Greeks dethroned by modern life, and the silliest possible plots. Outdoors we met the teenagers, and indoors the adults, all of whom were dramatically uninteresting. Both these experiments looked good on paper, but I expected them to be better.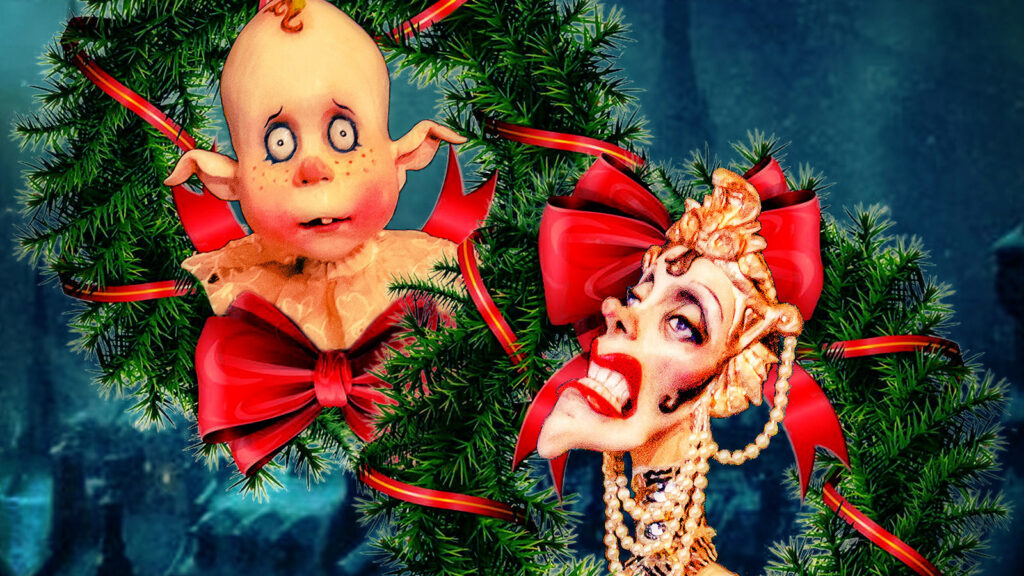 Scatological As King
Is there anyone better at potty-mouth than puppeteer Ronnie Burkett? I laughed my way through the show Little Dickens when it first debuted in 2017, and it remains just as funny today (Canadian Stage). Needless to say, the play is Burkett's adult riff on Dickens' A Christmas Carol, but only the over-16s could get in. So let's salute Burkett's quick wit, fast thinking, instant improv skills, and the way he plays the audience. When he is in scatological mode, he almost makes it sound like good taste, yet he is also able to create some very poignant moments. And lest we forget, his skill as a puppeteer is almost nonpareil.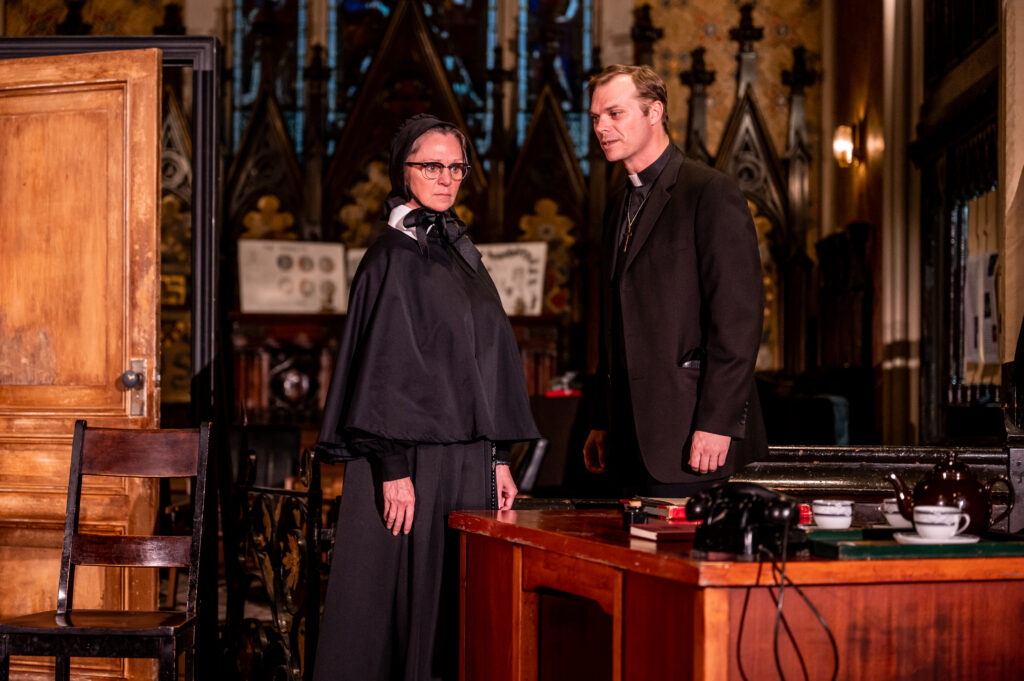 New Beginnings, aka, We Hope You Stick Around
New theatre companies are cropping up all the time, but there are some, more than others, that we hope will stick around for a while. Such a one is B&E Theatre (also known as Breaking & Entering) run by the husband and wife team of actor Brian Bisson and producer Emma Campbell. These guys didn't start small. Instead they mounted the John Patrick Shanley modern classic Doubt: A Parable, performed by an outstanding cast and helmed by Dora Award winning director Stuart Arnott. The clever venue was Church of the Holy Trinity. If you are going to do a classic, make sure the audience gets something new out of it, and I certainly did, finding much more depth in Shanley's script. I eagerly await B&E's next offering.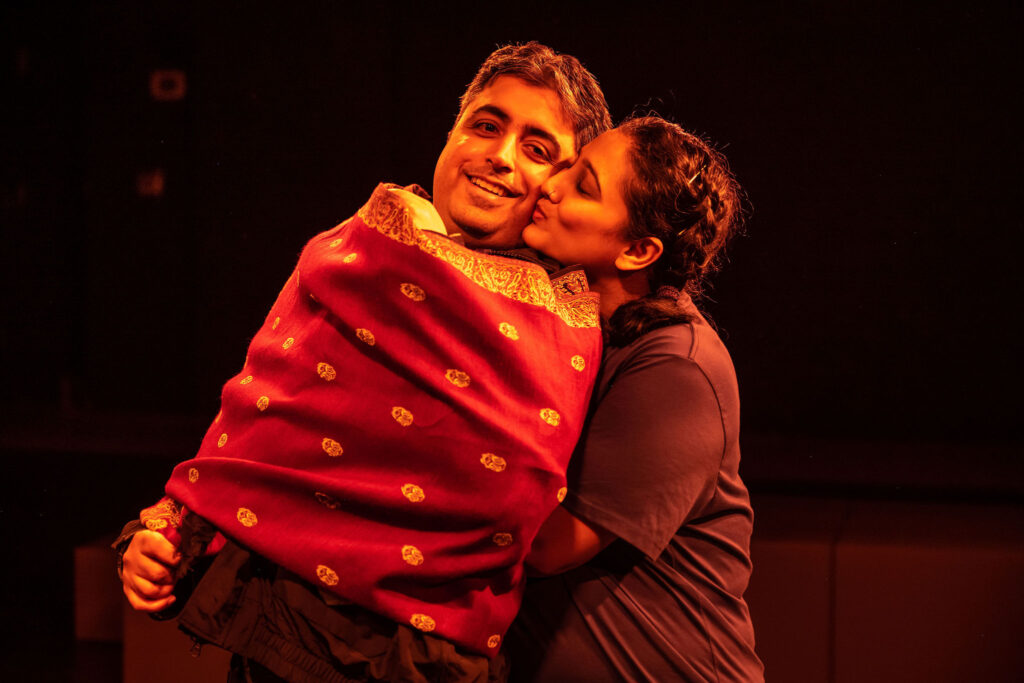 Giving a Break to New Talent
Ravi Jain, artistic director of Why Not Theatre, not only makes his own shows, he also supports new talent, particularly through Riser Toronto, presented at the Theatre Centre. Young artists are chosen to show their plays and are given all kinds of professional help. Jain calls Riser a collaborative producing model, the main aim being that the participants experience what it is like to be part of professional theatre. I saw two of the three in-person shows this year. Don Valley Girls was sketch comedy performed by a bevy of BIPOC young women. Some of their comedy landed, while others didn't, but they gave it a good college try. The idea, however, is terrific. The other show, An IMM-Permanent Resident, I felt was stage ready. Written and performed by Neha Poduval and Himanshu Sitlani, this clever play is a chronology of the married couple's problems with the Canadian immigration system, and it was laugh out loud. A winner like An IMM-Permanent Resident is the reason that I adore Riser.
There's Life in the Young Girl Yet
I'd like to bring attention to The Howland Company's production of Chekhov's Three Sisters, adapted and directed by Paolo Santalucia, in partnership with Hart House. Santalucia is a co-founder of the company. The reason I'm bringing up this production is that I was excited by it. I thought the adaptation was just terrific, colloquial, but cleverly updated. There were also some extraordinary performances. Yes, some of the actors were too young for the roles, and the acting was uneven, but the adaptation was sleek and modern, and moved Chekhov's characters into the present day. I guess this is an encouragement award. I want Santalucia to keep working on his adapting skills. I don't think Three Sisters should die without a trace.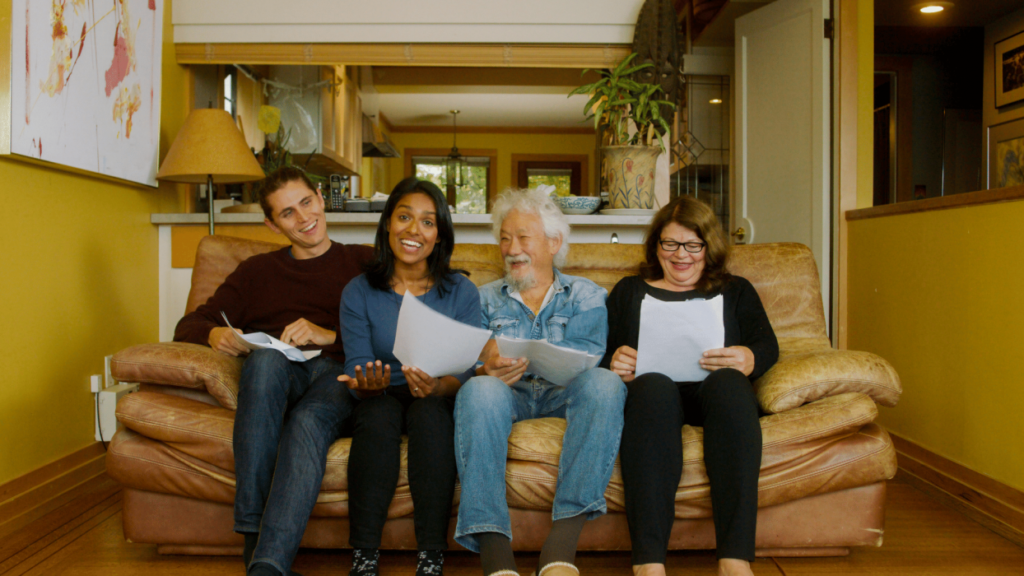 A Very Special Evening at the Luminato Festival
What You Won't Do For Love is an ungainly title for a play, so it will hereafter be known as WYWDFL. There I was at the Canadian Opera Company Theatre, not knowing what to expect, but what I got, however, was a charming show, filled with warmth, and yes, love. What began as a play, then became a film, then a book, is now a play again, and it is thanks to Luminato that we got to see David Suzuki live. There are three other people on the stage, but I suspect most of the audience was there for the much-admired eco-warrior. The revelation for me, however, was finding out about Tara Cullis, Suzuki's life partner for over 50 years. I confess I knew nothing about her, yet she has had a profound effect on the fight for climate change. She also founded the famous David Suzuki Foundation. Cullis became the star of the show for me, and I delighted in her wit and wisdom. The format of WYWDFL is simple. Writer/actor Miriam Fernandes and her Norwegian/actor partner Sturla Alvsvaag, engage Suzuki and Cullis in gentle conversation, and in doing so, we find out many personal details about the lives of both couples. It's all about the human element, and director Ravi Jain (yes him again), has cleverly allowed the cast to read from scripts, as they look through photographs and keepsakes. Behind them, are projections of what they are looking at (photos) and what they are talking about (the Amazon). There is also lots and lots of humour. The 90-minutes just flew by. Jain makes a point that theatre can be a vehicle for change, but WYWDFL was preaching to the converted. It was a love affair between admirers and Suzuki. The people who should be getting the message about our dying planet weren't there. The best take-away message was that we should love the earth as we love our nearest and dearest. Yes, it was the kind of show that gave me the warm fuzzies, and I fell into WYWDFL's tender trap.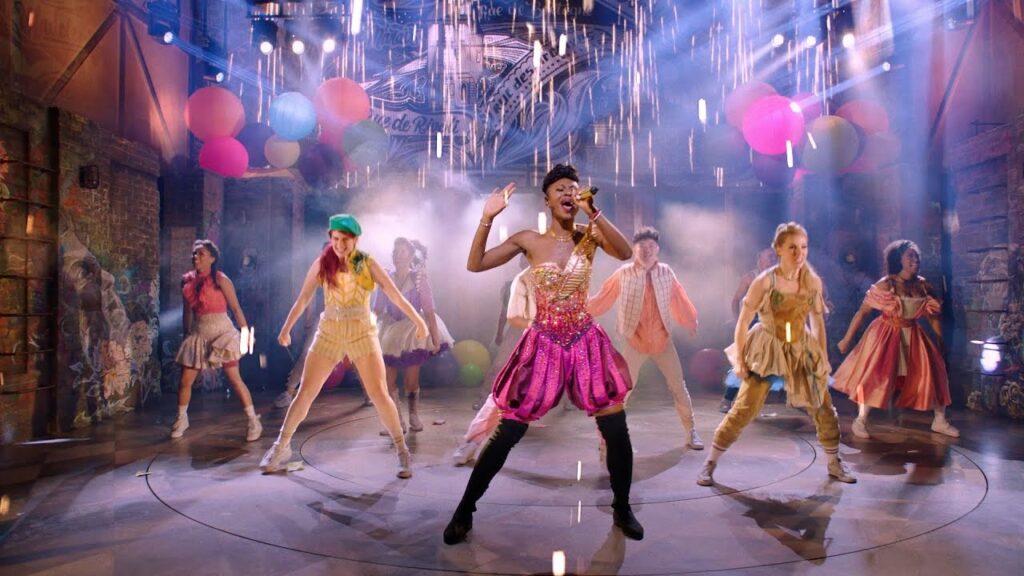 Juke Box Musicals – Are They Blunting Creativity?
By definition, a juke box musical uses found music by hit songwriters, and layers a story on top, either a bio of the songwriter or singer, or a fictional tale. I guess Momma Mia started the craze as a fictional story using the music of ABBA, but there is also Jersey Boys, that used the group's hit songs to tell their story. The latest to come our way is & Juliet using the music of Max Martin, and I confess, I didn't know any of his songs. My point is this. What are these juke box musicals doing to original musicals? Are the new musical theatre lyricists and composers having a harder time getting produced when they are competing against existing monster hits? Incidentally, I didn't enjoy & Juliet. The show was so obvious, you couldn't have jammed one more woke relationship into the plot if you tried. As I looked at the audience, they seemed to really be enjoying the music, so what did the story matter? In this case, the story (a sort of feminist rebellion by Anne Hathaway, aka Mrs. William Shakespeare), was just an excuse to hang the music on.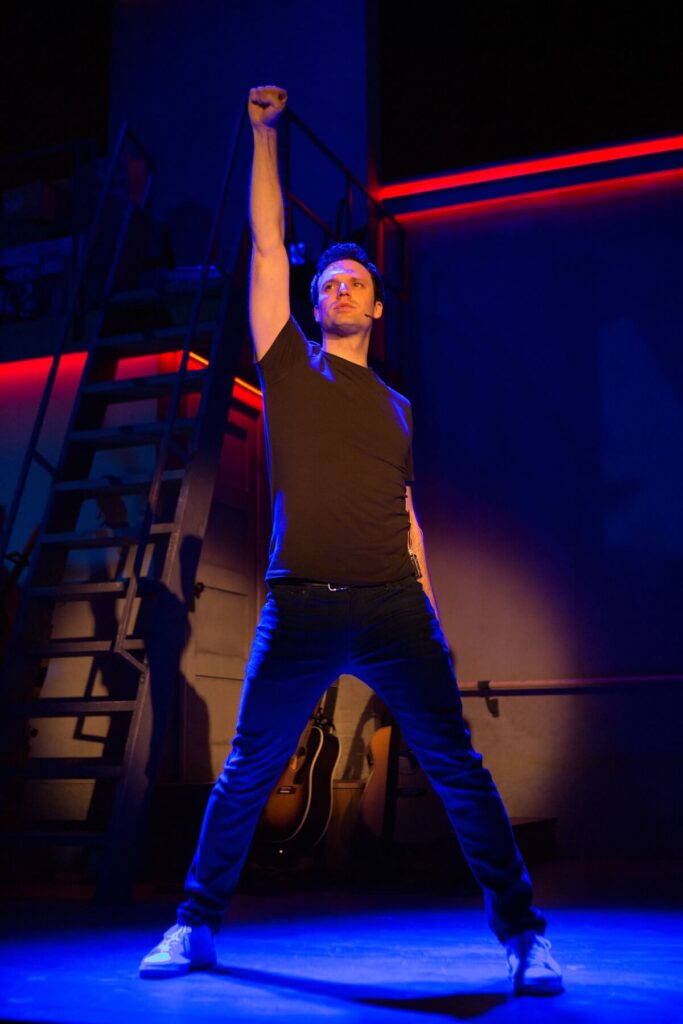 One Person Personal Shows – Tell It Like It Is
In the last couple of year, at least three solo productions by top musical stars have graced Toronto stages. Jake Epstein, Cynthia Dale and Louise Pitre all had one-person shows that were personal-reveals, to a varying degree. Some told us more than others. I have to say, I do enjoy these kind of shows because I learn about the artists. These stars also tend to pick fabulous music. In the case of Dale, for example, it was all Sondheim. On the other hand, is it really therapy made public? Is it monetizing yourself? Are we really in the age where personal outpouring has become the norm? Are we starting to demand more insider reveals? Will what the artist chooses to tell us be enough to satisfy us? Will we think it will be okay if we leave with questions that didn't get answered? These artists are taking big chances with their personal lives because their show is going to be reviewed, just like any other musical. It's a tricky wicket, to say the least.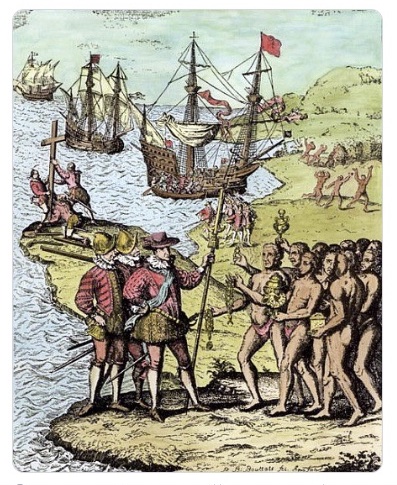 To Review or Not To Review
I have to end this tome on a negative note. Certain Indigenous artists do not want their work reviewed by White settler critics. I think that this is a dangerous precedent. Taking this premise to reductio ad absurdum, does this mean that one day Obsidian Theatre will only want Black reviewers, and the Harold Green Jewish Theatre Company allow only Jews to critique their shows? These Indigenous artists seem to forget just who was there at the beginning, when talented Indigenous playwrights were getting their work first produced on stage. It was the White settler critics who helped make the names of these Indigenous pioneers. There is also the implied insult that my colleagues and I would fail to understand aspects of Indigenous culture, which certainly may be true, but does that preclude a complete failure to evaluate artistry?. Is it a sore point with me? You bet it is.