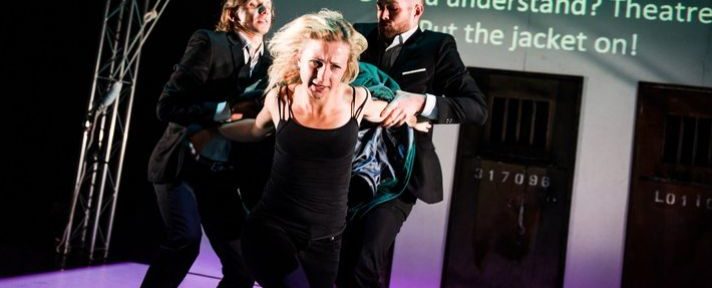 Belarus Free Theatre is an ironic name, because the renown company is anything but free in their own country where they are banned. In fact, when they do manage to perform there, they have to go underground. To inform their audience, they put up fliers in university washrooms. Belarus, apparently, is the last dictatorship left in Europe. The exiled company, founded in Minsk in 2005, now calls London home.
Clearly BFT is a company of dissent, and their production Burning Doors is like a bludgeon. Their modus operandi is to weave their plays around personal stories, the more harrowing, the better. Burning Doors has been inspired by Crimean-born, Ukrainian filmmaker Oleg Sentsov, who is in a Russian jail for 20 years on apparently trumped-up charges of terrorism; Russian performance artist and political activist Petr Pavlensky, infamous for sewing his mouth shut and nailing his scrotum to the pavement in Red Square in protest; and Maria Alyokhina, a member of the Russian feminist, anti-Putin, punk rock group Pussy Riot, who performs guerrilla concerts guaranteed to irritate the establishment. (The latter is actually a member of the cast). There is also a strong intellectual component with reference to the writings of Russian novelist Fyodor Dostoevsky, French philosopher and social theorist Michel Foucault, and French poet and surrealist Paul Eluard. BFT also cites Austrian expressionist painter Egon Schiele as an influence. In other words, pretty heady stuff as BFT delves into questions about art and dissent, freedom and oppression, and risk-taking and punishment.
How does Burning Doors play out? Well may you ask. The production is made up of a barrage of graphic scenes that depict arrest and detention, none of it very pretty, mixed in with quoted passages from the writers. Comic relief comes in the form of conversations between two Putin apparatchiks. It is rather amusing to hear them talk about how to deal with dissidents, such as Sentsov, Pavlensky and Alyokhina, interspersed with chats about what is better, a yacht or a private jet, and the relative merits of Picasso. The set contains a steel scaffold and a back wall with three cell doors, perhaps for each of the three activists. There are also livecam projections and news videos. The thundering drumbeat score has been composed by Alexander Lyulyakin, drummer with the Ukrainian band Boombox. The play is performed in Russian with excellent surtitles on the back wall.
BFT's artistic directorship – Natalia Kaliada, Nicolai Khalezin and Vladimir Shcherban – prefers a gritty, realistic style of delivery enhanced by imaginative details. For example, the insidiousness of incessant police questioning is conveyed in a round-robin. Each of the four women portrays a seated prisoner being verbally hounded, and then stands up and becomes the relentless interrogator of the next woman, and so it continues around the circle. Burning Doors is not for the faint of heart. The scene where a naked prisoner is humiliated by being body searched is horribly uncomfortable to watch. At various times, the cast is beaten, tortured, kicked, choked, smothered, drowned, hoisted up by their arms, or have their stomachs stood on. There is long passage, seemingly endless, where a captor flings a prisoner around like a doll by repeatedly grabbing his neck and throwing him to the ground. The eight-member cast, who helped devise the play, are clearly supermen and women. The physicality required on the part of the performers is monumental, not to mention aerial skills for those strung up.
Every time I see a performance like Burning Doors, I realize, that despite all the injustices we have in Canada, we really are living in La La Land. "Pampered" is what an acquaintance called Canadians after the show. I'm sure very few people attending Burning Doors voted for Doug Ford. Who else is going to attend a hard-hitting, brutal, explicit production like this except lefties, or conservatives with a conscious? The tragedy of Burning Doors is that it is preaching to the converted, while the human rights of a huge swath of the world's population are being eroded away.
As an after note, Burning Doors has a couple of interesting turns. Two-thirds of the way through the production, there is an impromptu Q&A with Alyokhina, who spent two years in prison for hooliganism, for a guerrilla rock concert that Pussy Riot staged in a Moscow cathedral to protest the Orthodox church's support for Putin. And then, at the very end of the performance, the audience was given protest banners by the cast, and we were filmed by BFT shouting "Free Sentsov!" three times. And thus, life imitates art. Sic transit gloria mundi.
Luminato Festival 2018, Burning Doors, Belarus Free Theatre, devised and performed by the company, directed by Nicolai Khalezin and Natalia Kaliada, Belarus Free Theatre, Joey and Toby Tanenbaum Opera Centre, Jun. 20 to 24.